Living with an ignition interlock device may seem overwhelming. While you may be worried about what your friends and family think or if your boss will think differently of you, you really should think about how an ignition interlock device improves your life after a DUI conviction.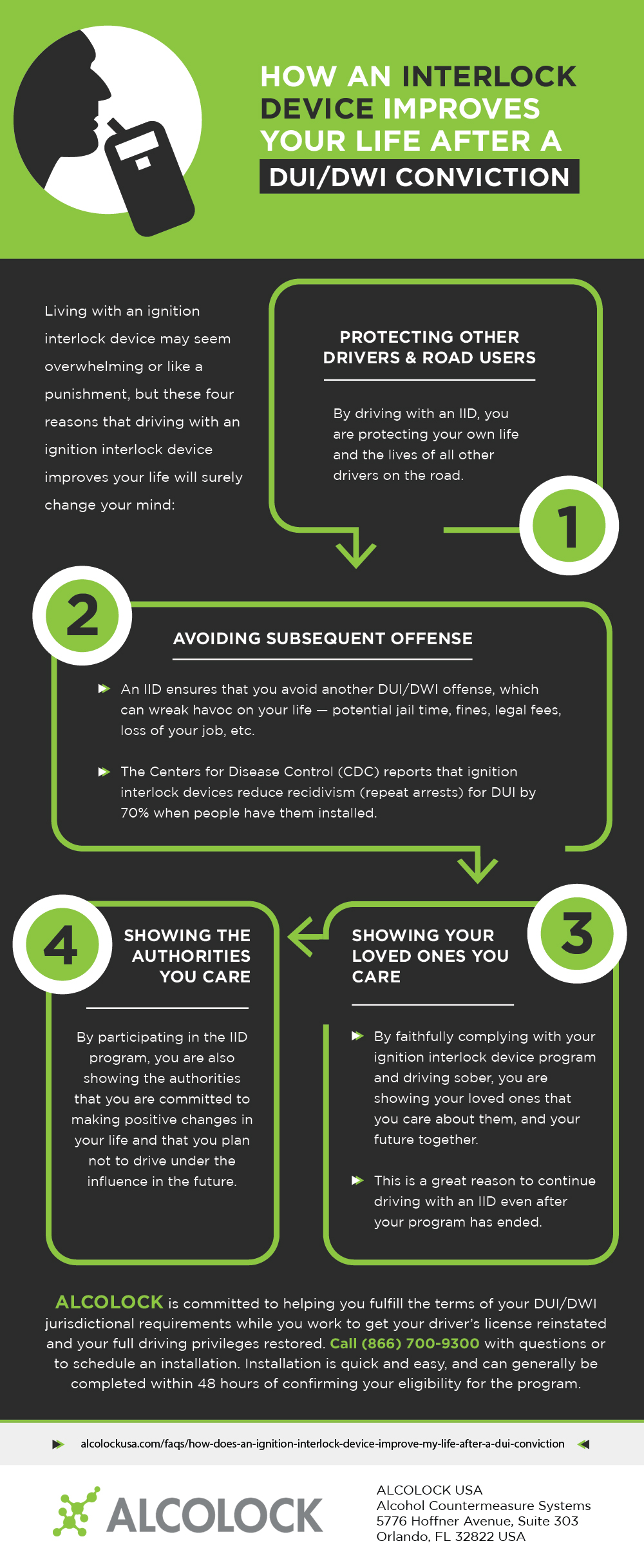 While we can't answer the first two questions, we can definitely answer the last one. ALCOLOCK has been in the ignition interlock device business for more than 40 years, and we've seen first hand how an interlock device can help our customers get their lives back to normal after a DUI conviction.
The number of people with ignition interlock devices in their cars continues to grow, as now, all 50 states and the District of Columbia have ignition interlock device laws on the books. Twenty-nine states have mandatory interlock provisions for all DUI offenses, including a first offense. States have passed these laws to help cut down on drunk driving and the injuries and deaths that can result from drunk driving accidents.
Keeping Drunk Drivers Off the Road
When you and all of those other people convicted of DUI properly comply with your ignition interlock device program, you are helping yourself and your community. .You may view it as a punishment you have to get through, but you're improving your life by not driving drunk. By doing so, you are protecting your own life and the lives of your family and other drivers.
By driving sober as a result of your ignition interlock device (IID), you are also avoiding another DUI offense, which can wreak havoc on your life — potential jail time, fines, legal fees, loss of your job, etc. If this is your first DUI offense, driving around with the ignition interlock device in your vehicle may be enough to dissuade you from driving drunk in the future.
The Centers for Disease Control (CDC) reports that ignition interlock devices reduce recidivism (repeat arrests) for DUI by 70% while people have them installed. They also report that using an ignition interlock device at the same time as someone gets treatment for alcohol abuse can further reduce repeat offenses.
Showing Your Loved Ones You Care
Your drinking and driving may have caused conflict with your loved ones. By faithfully complying with your ignition interlock device program and driving sober, you are showing your loved ones that you care about them, and your future together. Chances are, your loved ones will be happy to see you taking responsibility for your mistake and taking positive steps.
By participating in the IID program, you are also showing the authorities that you are committed to making positive changes in your life.
Get Your Life Back to Normal
Complying with your ignition interlock device program helps you get back on the road to normalcy. Having an IID in your vehicle may seem like a pain, but it's easy to get used to it. Like any habit, it may take a few days or weeks, but soon, it will be just like putting on your seat belt.
By following the IID rules for your state, you are getting closer each day to completing the program and getting your full driving privileges back. Keep in mind that the results of each breath test are reported to the agency monitoring your progress. Violating the program by repeatedly failing the breath test or trying to tamper with the device will extend the amount of time you have the ignition interlock device in your vehicle. You may also face other penalties if you don't comply with the program.
Everything Gets Better From Here
Getting arrested for DUI was probably one of the worst days of your life. Getting convicted was probably another. While having an ignition interlock device in your vehicle may be a bit of a pain, driving with an IID brings you one step closer to better days ahead. Having an ignition interlock device in your vehicle is nothing to be ashamed of. In fact, you should be proud of yourself for taking responsibility and becoming a safer driver.
We're With You On the Way Back
ALCOLOCK is committed to helping you fulfill the terms of your DUI/DWI jurisdictional requirements while you work to get your driver's license reinstated and your full driving privileges restored. Call 866-700-9300 with questions, or use our contact form to schedule an installation. Installation is quick and easy, and can generally be completed within 48 hours of confirming your eligibility for the program.